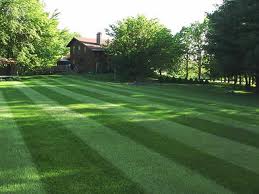 Heavily thatched lawns combined with depleted and compacted soil can make your lawn look less than desirable. You can fertilize and water regularly, and the lawn remains spotty-brown and unhealthy looking.
Power or manual raking combined with aeration allows water and nutrients to penetrate the lop layer and more effectively get to the root system. Power raking and aeration done annually, actually helps condition the soil by allowing some of the old naturally deteriorating grass to more effectively break down and create fresh soil, for a healthier lawn.
For those not familiar, an aerator is a machine that is a little larger than a lawn mower, that has cylindrical shaped tines that penetrate the soil and extracts plugs of old and hardened soil. For an effective aeration, you should water your lawn heavily a day or two before aerating. This maximizes the penetration and thus plug length so water and nutrients can reach deep into the roots.
Buffalo Landscaping & Snow Removal offers quality power raking and lawn aeration service. Call us for a free estimate.