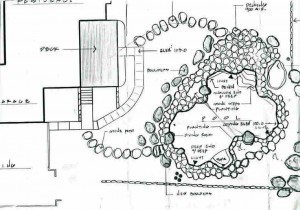 The site plan or site design will help you plan how your landscape will look and fit together within the allocated space.
First determine the theme of the design. Usually the larger or main attraction in your design such as a pond, garden, terrace or other center piece  will carry over into the rest of your landscape design.
Once you have a design in mind, draw it out on a piece of graph paper using a pencil so you can erase and modify the design. The design can be as simple or as involved as you desire, and Buffalo Landscaping can help you during this process, or we can develop it for you as well.  We always work with our clients to make sure we capture the desired end result.
The landscape design must follow  home owner association rules & regulations, as well as some city permit requirements as applicable.  Some projects may require a local permit, especially if construction of fences or decks are involved. We can help you through this process. Click here for City of Greeley information.
There are numerous resources on the internet to help you with your landscape design ideas. Just search on "Landscape Site Design".
Call Buffalo Landscaping & Snow Removal in Greeley for a free estimate!